"Work from home" they said, "It'll be fun" they said (didn't they?)…
We're on Day 60 of lockdown here in Spain, although we have entered Phase 1 in Mallorca which means some businesses are well, back in business. Great news!
However, I'm seeing a lot of patients in the clinic with 'laptopitis', also known as 'iPaditis'. A serious condition affecting the head, neck and shoulders brought on by working from home!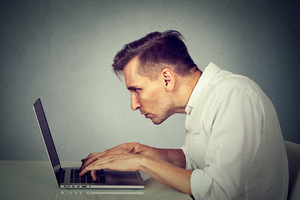 Although it has some advantages (no commute = longer in bed, you can wear slippers all day, there's a cupboard full of banana bread nearby, etc), working from home is far from ideal. From emails in bed to Zoom meetings in the kitchen, it's all going on!
For a short while this is fine and actually quite fun, but as time goes on and this becomes a new kind of 'normal' it's a good idea to get a bit more organised. You should think about your workspace and divide it into different zones.
Find a place where you can sit upright as if you are at your desk, the dining room table maybe? If you are using a laptop, rest it on top of a couple of large books so that the screen is in line with your eyes so you don't have to stoop forwards. No one likes a pokey chin after all!  Put a cushion behind your lower back to help you sit up tall if your chair doesn't support you fully.
Find a place where you can stand to work, at the worktop/breakfast bar maybe? You can always use those big books again to lift your laptop a bit higher. If you don't have anywhere suitable for computer work whilst standing, maybe take all your phone calls standing up? Or even better while you walk around!
Find a place where you can sit relaxed and comfortable, the sofa maybe? Place a cushion behind your lower back and one on your lap to rest your laptop on. Yes, this IS allowed! Sit cross legged if you want!
Sit on the floor… Lay in bed… Stand on your head… Can you see where I'm going with this?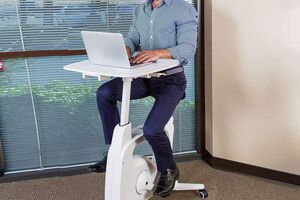 Once you've decided on your work zones, use ALL of them EVERY day! The idea is to keep changing your posture as often as you can. As you'll know if you've read my previous post about posture, I'm not an advocate of a 'perfect posture', because quite frankly, there isn't one. We're all different, a great position for my 5″4 self just won't be suitable for my 6″3 husband.
We all need to find what's best for us, individually. But, even when you've found the 'optimal' posture for you, that doesn't mean you can stay in it for 7 hours straight! Hell no! You've got to MOVE… No posture is bad for you, unless you're in it for too long! Work your way around the house as much as is practically possible.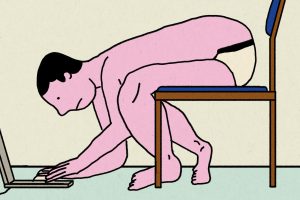 There are all sorts of formulas for creating the most ergonomic workstation but that's all a bit complicated and involves lots of angles, tape measures, etc (yawn) so as far as I'm concerned just make yourself comfortable and set an alarm to make sure you move after a maximum of 45 minutes.
Performing a few simple neck stretches regularly throughout the day is also a good idea to help prevent tension. And now we're all allowed out for a stroll or to do some exercise, make sure you use your allocated time slot to get away from the screen and get some fresh air – it's ALWAYS a good idea.
If you haven't already, I really hope you're able to resume some kind of 'normal' working life really soon. In the meantime, look after yourselves and don't fall victim to the strange 'laptopitis' or 'iPaditis' that's going around at the moment. I'm here if you need me…
Thanks for reading, until next time.
Lauren x